Member Highlights
August 2023
LHTC Broadband is a local telecommunications service provider in the Laurel Highlands serving Mill Run, Normalville, White, Indian Head, Melcroft, Jones Mills, Donegal, Acme, Champion, Stahlstown, Rector, Ligonier and other surrounding towns. LHTC Broadband began as a telephone service provider over 115 years ago. The Company has since incorporated IPTV and High-Speed Internet into its' offerings. Providing local customer service and support along with high-quality communications services is our mission. LHTC Broadband strives to keep our rural communities, businesses and schools connected with broadband services by providing speeds up to 1 Gigabit through our Fiber Optic network. Giving back to the communities we serve is another mission, and each year one of the ways give back and show our appreciation is our Annual Customer Appreciation Day.
Our 15th Annual Customer Appreciation Day will be held Saturday, August 19th at the Stahlstown Flax Scutching Grounds from 11AM to 3PM. The first 500 people to arrive will receive a free T-shirt! Come out and enjoy food from G&D Market, ice cream provided by Chestnut Ridge Community VFC, and dance to the music from our DJ- Quality Sounds Pittsburgh. Don't forget to snap a photo at the photo booth, visit our local vendors, and play one of our fun games including Bingo, sponsored by Sarnelli's & McDonald's of Donegal. Our kiddie area will have a ring toss, skee ball, chicken toss and more! New this year, kids will be making a craft with the help of local Girl Scout Troop 26796! While enjoying the day listen for your name to be called as we giveaway prizes every half hour. Be sure to stick around for the Grand Prize 65″ TV at 3PM. Mark your calendars and come out for an afternoon of fun and entertainment as we say Thank You to all our customers!
July 2023
Zoom on over to Caddie Shak Family Entertainment Center for a day of excitement! With 30 acres of action-packed attractions, there is something for everyone to enjoy. Mini Golf on either the Highlander Course, which features a rock cave, waterfall, and challenging obstacles, or enjoy the nostalgia of the Olde Course with fun gopher obstacles to test your best putting skills. Then cool down at the Bumper Boat pool while squirting the water cannons at other riders. If you really want a break from the heat, test your aim at Water Wars, a sling shot water balloon game where hitting the bullseye soaks your opponent. Make sure to stop at the Snack Shak and enjoy Hershey's hand dipped ice cream, slushies, and all the traditional concession foods like nachos, soft pretzels and pizza. Next race over to the Go-Karts for a speedway like experience at the Grand Prix to see if you can finish in first place. If you want even more racing fun, visit the NasKart track for a 360 race to test your best driving skills. There is plenty more to enjoy at the park, like the brand-new Bungee Jumper, Tubs-o-Fun, Airplanes, Kiddie Karts, Batting Cages, Arcade, and Driving Range! Enjoy an action-packed day at Caddie Shak with your family and friends!
Caddie Shak is the perfect place for your next birthday party, reunion, field trip or other celebrations with our group and party pricing and pavilion rental. Visit our website CaddieShak.com to book your event today!
This summer we have the following special events scheduled, but be sure to follow us on Facebook and Instagram for the latest news and new events!
Cosmic Golf -July 21 & August 18
Car Cruise -July 28, August 25, & September 20
Fall Fest -October 7
Pumpkin Painting -October 14
Golf n' Goblins -October 21, 22, 28, 29
Fun Cards can be purchased online at CaddieShak.com in advance or at the park. There is no admission fee to enter the park and credits can be reloaded to cards at any time. See page 4 for a special coupon!
June 2023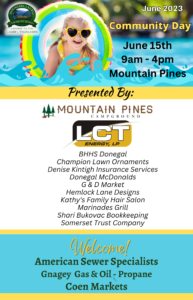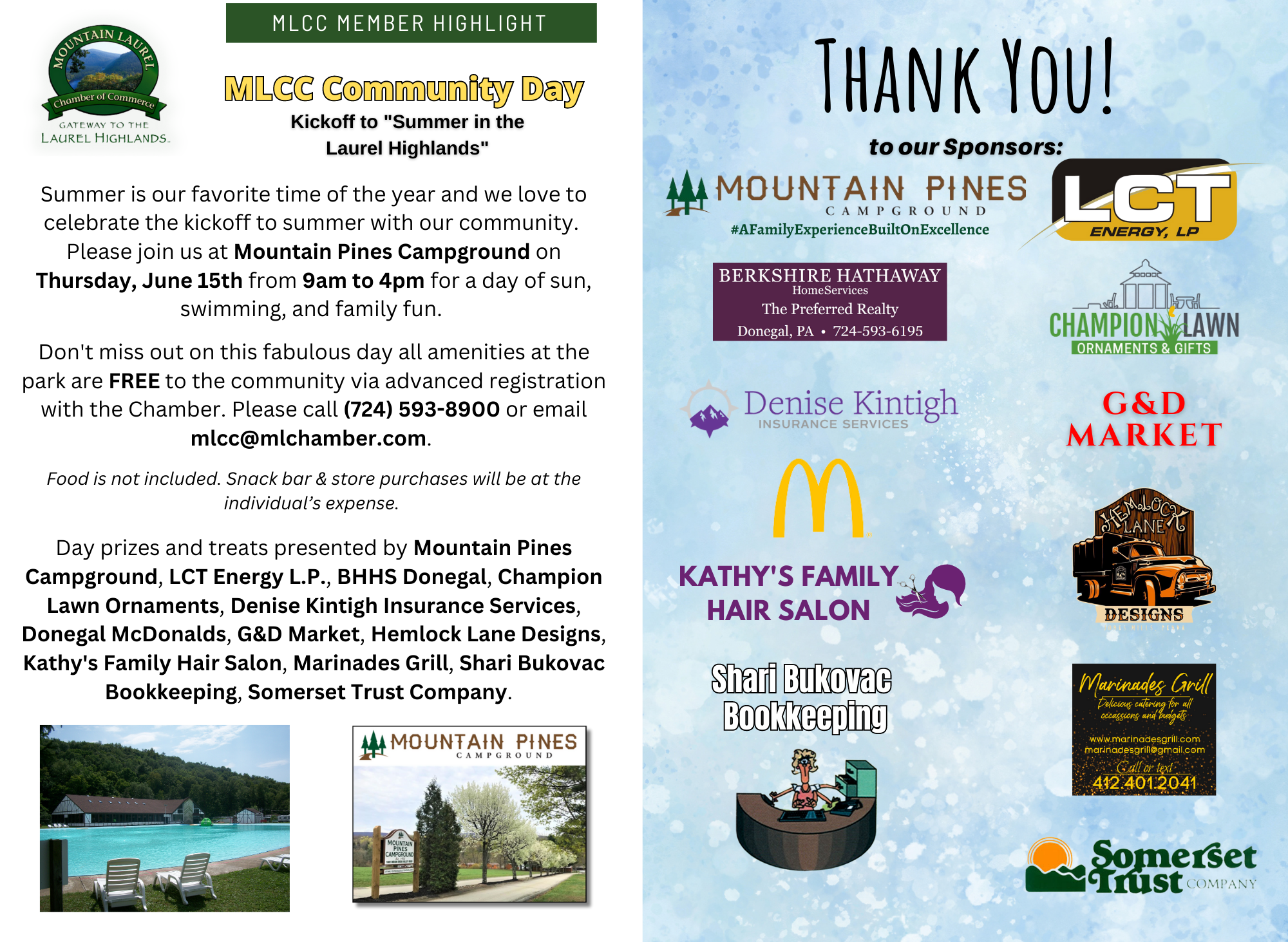 Page Sponsored by: LCT Energy, LP
May 2023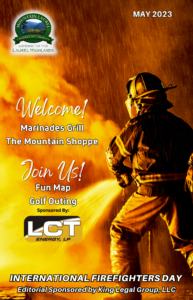 The Mountain Laurel Chamber of Commerce (MLCC) is surrounded by several volunteer fire departments. We would like to continue to raise awareness of the importance of fire fighters and the safe use of fire. It's time to highlight these superheroes, support National Fire Day, and continue fire prevention education.
These men and women are volunteering their time and are responding to calls 24/7. They are local heroes willing to help the community no matter when the fire alarm rings. They answer calls while many people are sleeping, enjoying a holiday dinner, celebrating their birthday, and/or watching their children's sporting events. It doesn't matter what's going on in their lives, when they hear the fire whistle, they are ready to respond immediately to protect your life. Volunteering not only enriches your life but also benefits the community. Depending on the location, these amazing volunteers can respond to approximately 500 calls in one year.
Most fire departments are structured like a business. They assign officers to help monitor the precautionary steps to prevent a dangerous situation. Monthly meetings are held to keep the team updated on key events going on and receive feedback from the members involved. On a monthly basis, volunteers organize fundraising events to engage the community and support the monthly expenses. See illustration below for a few key points:

Fire prevention activities are essential for keeping people safe from danger and unnecessary fires.
Educate all family members on who to call and react quickly.

Remain calm and call 911. They will dispatch the appropriate emergency vehicles.

Plan an escape route and discuss it with your family members.

If your clothes are on fire, Stop – Drop – Roll.

Have a fire extinguisher in your house and educate yourself on how to use it.

Install smoke alarms and replace the batteries once a year.

Never leave a burning fire unattended.
The mission of many fire departments is to provide the best level of public safety services to all the residents in the Laurel Highlands. Please continue to support all the local fire departments and appreciate their dedication to the community. Bakersville, Bullskin, Chestnut Ridge, Kecksburg, New Centerville, Normalville, Ohiopyle, Saltlick Twp, Seven Springs, and Springfield Twp Fire Departments are ready to serve the needs of the Laure Highlands community. They appreciate your participation in all the fundraising activities and donations throughout the year to help cover costs for new gear, investment in new vehicles, repairs and maintenance to existing equipment, and general support to cover routine utility costs.
Page Sponsored by: King Legal Group, LLC
April 2023

The Mountain Laurel Community Support Organization provides annual Eleanor G. Morris Community Service Scholarships. These scholarships assist the further education of graduating students who have demonstrated their commitment to community service.
In 1951 Dr. Eleanor Morris and her physician husband Frederick moved to the Laurel Highlands from their Pittsburgh assignments at Shadyside Hospital. Although his was a move to retirement, she began a new career as her community's doctor, touching many lives with her healing hands and generous heart. Dr. Eleanor, or "Doc" as so many fondly knew her, was alert not only to her patients' requirements but also to other needs in her community.
No matter the time of day or the weather conditions, she traveled all over the area with the help of her trusty jeep, or occasional use of snowshoes, to bring her medical assistance to patients in need. Until she hung up her stethoscope in 1990, Doc ministered to the medical needs of many.
With financial support from the Pike Run Country Club she organized the Indian Creek Valley Child Health Center and helped more than 3,000 children, many of them babies. A corner of her office in Jones Mills was reserved for accumulating and distributing various articles of gently used clothing.
Dr. Morris rose to the challenge of other community needs, too. Because she loved to read and placed a high value on books, she offered her ideas and motivation to establish a small book collection available for local residents to borrow. Annually she organized the Red Cross blood drive and for several years was the doctor for Camp Easter Seal in Somerset County.
Her respect for and love of nature motivated her to support many conservation efforts, not only on her land, but also through organizations such as Powdermill Nature Reserve and the Westmoreland Conservation District.
Dr. Morris was a friend to all animals — many a lost pet was taken to her for care until an owner could be found, and she nursed back to health a variety of injured domestic as well as wild animals and birds. She believed strongly that healthy wild animals should remain in their forest homes, but she did make an exception for her buck and doe, Sam and Sarah.
Throughout her life, Dr. Morris called upon her caring spirit to help many who lived in the Laurel Highlands and when she died in 2005, she left an honorable legacy of community service to which the Eleanor G. Morris Community Service Scholarship is dedicated. Since 2007, $97,220 has been contributed by local residents and businesses which has allowed the Mountain Laurel Community Support Organization to recognize seventy students for their outstanding service to their communities.
To support the scholarship fund, contributions can be made to the Mountain Laurel Community Support Organization and mailed to P.O. Box 175, Donegal, PA 15628.
Page Sponsored by: King Legal Group, LLC
March 2023


Tucked away on a quiet, country road and surrounded by towering oak trees sits Foggy Mountain Lodge and Pub. Foggy Mountain is quickly becoming the Laurel Highlands one-stop destination for dining, lodging, and hosting the kind of events that people will talk about for decades to come. Owners, Jim and Karen Dunn have poured themselves into the business since they purchased it in 2004. Their commitment shows in the loyalty they receive from customers and staff alike.
You will find Karen running the show in Walnut Hall, our 200 person capacity banquet facility. Over the years, Foggy Mountain has become one of the best places to hold your wedding, reunion, or special event in the Laurel Highlands. The property has multiple options for ceremony locations such as the gazebo in front of our sprawling pond, or if you're looking for a more intimate location, in our beautifully rustic log chapel. Weather conditions don't limit you from an outside ceremony either with full access to our outdoor pavilion with wood burning fireplace. For weddings in colder months, your ceremony can be held inside our banquet hall in front of the gas fireplace. Not looking for a big wedding? We now offer elopement packages as well! Not only does getting married at Foggy Mountain guarantee you a gorgeous backdrop for your wedding photos, but it also provides a weekend full of treasured memories with your friends and family when you stay on property and celebrate.
Foggy Mountain has several options for lodging, whether you are staying during a wedding weekend, or just looking for a mid-week getaway. We have three buildings, our Cedar Lodge, Pine Lodge, and Chestnut Lodge Suites. The Cedar Lodge, our most popular option, is constructed of 100% cedar both inside and out. In this building are six recently updated guest rooms, four king-bed rooms and two queen-bed rooms, all with beautiful vaulted wood ceilings. All the Cedar Lodge rooms have interior entrance doors, with four of the rooms having an additional exterior entrance that opens to a porch area. The Pine Lodge has doors that open directly to the fresh Foggy Mountain air and all include a queen-size bed. The Chestnut Lodge is the perfect place for families to stay together as it features multi-bedroom suites and the four bedroom suite features it s own outside patio with fireplace and complimentary firewood. No matter which building you choose to make your home while you stay with us you have full access to the common areas in the Cedar Lodge which include our seating area complete with fireplace, complimentary grab and go breakfast area, microwave, refrigerator, and coffee pot. On the lower level of the building you can enjoy our pool table, card table, community television and warm up near the pellet stove in the chilly weather. Whether you are coming from out of state, or getting away for a quick staycation, Foggy Mountain is the perfect place to give you, not just a place to stay in the Laurel Highlands, but a place to experience the Laurel Highlands.
The Foggy Mountain Pub, open year round, features a cathedral ceiling for an open, comfortable dining experience, as you enjoy your meal in our main dining room. During warmer months dinner can be enjoyed outside on the open air covered deck. Maybe the best area, however, is our newly renovated bar! Boasting a large live-edge bar and high-top tables all around, it is the premiere place to spend a Saturday night in the Laurel Highlands drinking and eating with both locals and travelers. With an extensive menu that includes sandwiches, steaks, pizza, pasta, and more, as well as weekly specials, everyone will certainly find a new favorite every time they dine with us. Just don't forget to save room for one of our homemade desserts!
Whether you call the Laurel Highlands home or are just passing through, Foggy Mountain has a little something to offer everyone.
February 2023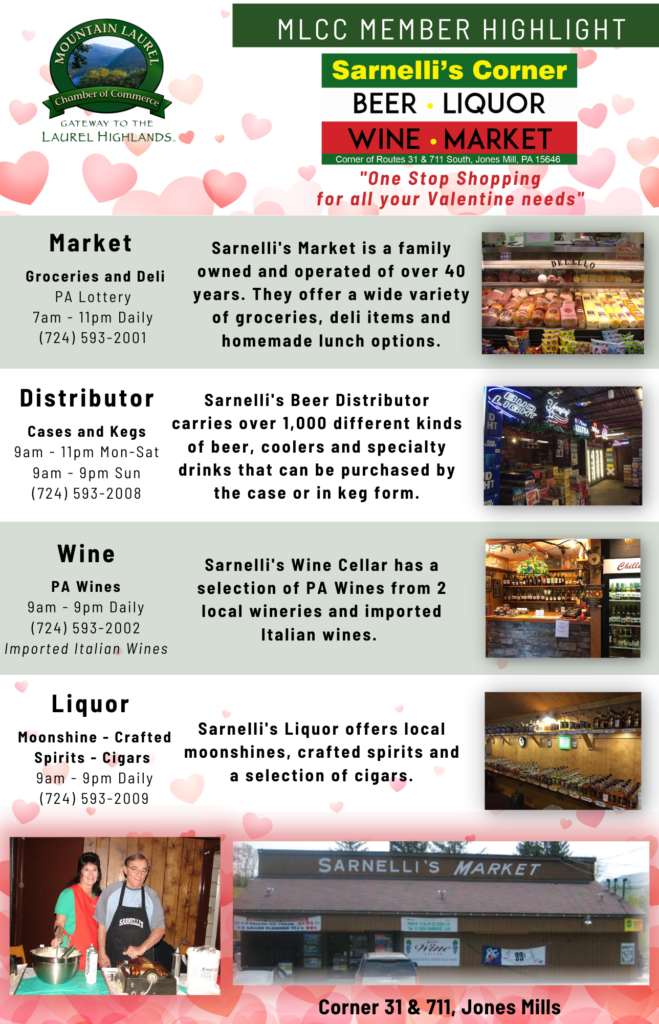 December 2022
If you try to do a quick check on when people began decorating for Christmas, you will probably get a headache. To prevent brain pain let's go with the following history of Christmas Lights in The U.S.A. Thomas Edison wanted to advertise his invention, the incandescent light bulb, so he put a display of lights outside his laboratory during the Christmas Season of 1880. (As I said there is a lot more information about Christmas Decorations if you care to do the research).
Grover Cleveland adorned the White House Christmas Tree in 1895 with lights. This helped promote the use of electric lights for decorations, but for many reasons the general population didn't get into the swing of decorating until after World War 2.
Next, in 2019, right here in Springfield Township, PA, the owners of See-Mor's Restaurant and The Firestone Insurance Agency of Normalville decided to sponsor a Township Light Up Contest. We purchased gift certificates from local merchants to present to the respective winners of the contest. In addition, we placed collection "bottles" at local merchants to gather a collection for our local fire companies. All donations were divided equally between the Mill Run and Normalville Volunteer Companies.
This year, we can offer an incentive for residents to "jingle" those bottles a lot louder. This year with the support from one of Firestone's Insurance Carriers we can match, dollar for dollar, all donations received up to $5,000!
We invite you to drive around Springfield Township during this 4th Christmas Light Up Contest Season to enjoy the lights and please offer your financial support to help our firemen! Merry Christmas from See-Mor's and Firestone's.
The judging for the 2022 Light Up will be held on Friday, December 16. Get ready!
November 2022
Living Treasures Wild Animal Park Opened in April of 1998.  Log Cabin Lodge and Suites, Originally Log Cabin Motel, shortly followed in 1999.  These two businesses are the passion of Thomas Guiher.  The original Living Treasures was founded in 1992 in New Castle, PA.  Over the years, on his frequent ski trips, Tom fell in love with the area and decided to bring his business acumen to Donegal Township.  Over the years, many improvements and changes have been made at Living Treasures and Log Cabin Lodge.  The lodge now has 24 rooms and 10 suites. The lodge features the rustic type atmosphere of our area and provides tourists and locals an authentic taste of the region. The animal park exhibits over 70 species representing six continents.  Living Treasures now has an elaborate education program that brings school groups from the local area and even across state lines.  Living Treasures even just opened it's new Rainforest Room.
Some of the biggest changes Living Treasures has made is their seasonal events.  In August we had our first Annual Beastly Beard Competition featuring Brett Keisel and Joe Starkey.  It benefited UPMC Children's Hospital of Pittsburgh.  Just this past month of October, Living Treasures had it's Night at the Zoo.  Night at the Zoo is a chance for visitors to walk around and view the animals at night.  It has also grown into a full-on Halloween light display.
The most exciting new event is our Holiday Light Extravaganza.  This event starts November 18th, 2022 and runs through January 9th, 2023.  The schedule is available on our website or Facebook.  Our Holiday Light Extravaganza features over 1 million bulbs of entertainment.  There are many featured areas for family pictures as well as multiple light and sound shows that will certainly lift your holiday spirit.  Also, during this event will be our season pass special and a chance to get some unique and nice gifts and ornaments in our giftshop.
We are proud to be members of our community and the Mountain Laurel Chamber of Commerce.  We look forward every year seeing the faces of local patrons.  So, if you're looking for something to do this holiday season; bring your family to meet ours.
Matthew Dumbauld, Living Treasures Wild Animal Park
October 2022

Q: What are aggregates, and where do they come from?
A: Aggregates come from rock formations that were deposited millions of years ago. They are mined by surface and/or underground methods, crushed, and screened to size for different uses, such as concrete and asphalt. In cases of surface mining, the operation is restored, upgraded, and returned to farm and forestland, often within a year after mining. Sometimes, farming occurs simultaneously. This minimizes the amount of land affected at any given time. Specifically, a smaller footprint means less labor, equipment, and fuel use. In Western Pennsylvania, roughly two formations have characteristics that meet state certification requirements. Amerikohl has quarries in each. Broadly speaking, every state and roughly 75% of the nation's counties have aggregate quarries, annually producing nearly 2.4 billion tons of aggregates valued at over $25 billion.
Q: What are aggregates used for?
A: Aggregates are the literal foundations of our society. They are the most fundamental materials used in construction and make up the foundations of roads, bridges, buildings, and homes. Aggregates comprise over 90% of asphalt pavement and up to 80% of concrete. According to the Association of Equipment Manufacturers, over 38,000 tons of aggregate are necessary to construct a mile of just one lane of interstate highway. Construction of the average home requires 400 tons of aggregate, while the average school or hospital requires 15,000 tons. Aggregates also yield other minerals. We would not have glass or plastic without sand, nor would we have pennies without zinc. Quartz provides silica for computer parts, and limestone provides calcium carbonate for antacids. Aggregates are also used in the water filtration and purification process, as well as for air filtration and purification.
Q: What is the economic impact in terms of jobs in Pennsylvania?
A: According to the Keystone Research Center/Pennsylvania Budget and Policy Center, major projects (including roads and bridges) account for over 7,600 jobs in the state due to the 2021 Infrastructure Investment and Jobs Act.
Q: What challenges does the aggregates industry face, and how is Amerikohl preparing to meet them?
A: Moving forward, we must continuously remain aware of and prepare for environmental policies affecting us. As some areas become more difficult to mine due to stricter policies, we must stay ahead of the game. We must be prepared to deal with potential carbon taxes, stricter water and discharge requirements, and restrictions on air emissions from plants and equipment. We must also continue to cooperate and create synergies with government agencies, including the Department of Environmental Protection, the Environmental Protection Agency, the United States Army Corps of Engineers, the Pennsylvania Game Commission, and the U.S. Fish and Wildlife Agency. These agencies review and approve our permit applications. We must engage and teach the community, public officials, and these agencies that aggregates are necessary for our economy and way of life. At Amerikohl, our reputation speaks for itself. In fact, our McMillin Quarry was awarded a National Association of State Mine Reclamationists award, presented by the DEP. This will continue to help Amerikohl prosper and compete in an ever-changing regulatory environment.
August 2022


LCT Energy, LP was established in 2009 and is headquartered in Johnstown, PA.  Our employees produce some of the highest quality metallurgical coal in the industry. Our coal is valued by both domestic and international customers as a key component in the production of steel.  Safety and compliance are core to all our operations.  Our priority is providing a safe work environment for our 170 employees; going above and beyond to achieve our goal of exceeding expectations to comply with all laws and regulations.
LCT began operations at the Rustic Ridge Mine in Donegal in 2019.  The current issued permit is 2158 acres.  LCT has recently applied for an additional 1453 acres, which would extend the life of the mine, at current production levels, through the year 2030.
LCT enjoys being part of the Donegal community, sponsoring little league teams, fishing derbies, and other local activities and efforts.  We are also privileged to be an active member of the Mountain Laurel Chamber of Commerce and we appreciate all that they do for the community and look forward to many more years together.
Mark Tercek, PE, President, LCT Energy, LP
July 2022

One of the oldest campgrounds in the country is celebrating its 100th anniversary!
Mountain Pines Campground was born as the Newill's Grove Picnic Area in 1922. It was built by Dr. Domer S. Newill to give back to his community of Champion, Pennsylvania, a small town in the Laurel Highlands region of southwestern Pennsylvania. In those days, much like today, the Laurel Highlands was an escape from the hustle and bustle of daily life. Wealthy Pittsburgh residents made summer homes in the Laurel Highlands before the turn of the century. Travelers followed the National Road to the mountains and traded hot summer days for mountain breezes in the days before electricity. The campground changed owners and names over the century, starting as Newell's Grove, to Maple Grove, to the then popular Cutty's and finally, today it's known as Mountain Pines Campground to thousands of campers.
Although the campground has changed- mainly it's expanded from 100 sites to nearly 1,000- the reasons people choose to camp here has stayed the same. For some it's to immerse themselves in nature escaping the hustle for some quiet time, and for others it's to spend time with great company and lots of fun things to do. One thing that remains true for every camper is that they flock to Mountain Pines Campground for many of the same reasons that they did in 1922 – to enjoy the great outdoors while making memories with their families.
Valerie Medina Stahl, Assistant Park Manager