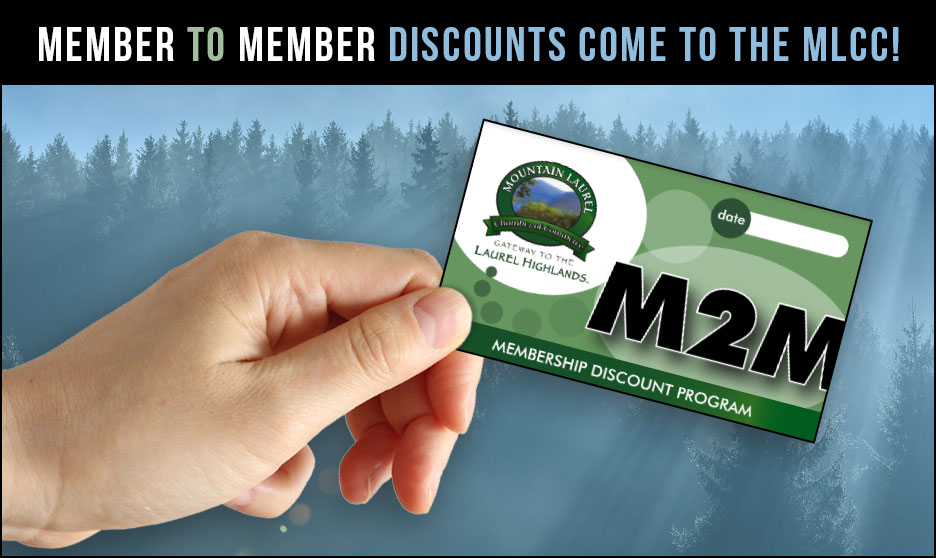 How does it work?
The M2M Discount Program works by businesses of the MLCC offering various benefits (e.g., discounted rates, BOGO deals, free upgrades, etc.) to other members of the MLCC. Members will receive an annual M2M Discount Card which verifies their membership in the MLCC and allows them to get the discount or offer from the MLCC member's business that they are patronizing.
Who is participating?
— Advertising, Marketing & Promotion —
🌟 FastSigns – Greensburg >> Website / Call
Buy 1 Get 1 Free Banner, 2' x 6', Call or Email Center for Details. Now through December 31st 2019.
🌟 Moseye Graphics >> Visit Website / Call
FREE 500 business cards when you spend $250, Order 10 or more yard signs (with stakes) single sided for $10/sign.
— Attractions & Entertainment —
🌟 Christian Family & Children's Center >> Visit Website / Call
$20 OFF a trip with purchase of two trip tickets on any Center Community Bus trip with a price of over $50 if registered and paid by the early registration deadline.
🌟 Glengarry Golf Links >> Visit Website / Call
FREE range balls with any 9 or 18 hole round paid for and played
🌟 Living Treasures Wild Animal Park >> Visit Website / Call
Buy one admission and get one of equal or lesser value for FREE
— Business & Professional Services —
🌟 King Legal Group, LLC >> Visit Website / Call
$50 OFF a Will or Power of Attorney
🌟 Shari Bukovac Bookkeeping >> Call
10% OFF notary services
— Lodging —
🌟 Days Inn Donegal >> Visit Website / Call
10% OFF Friday or Saturday lodging, 15% OFF Sunday-Thursday lodging
🌟 Log Cabin Lodge and Suites >> Visit Website / Call
10% OFF Friday or Saturday lodging, 20% OFF Sunday-Thursday lodging
— Restaurants, Food & Beverage —
🌟 G&D Market >> Call
10% OFF orders (excluding tobacco or catering)
🌟 The Trenthouse Inn Marketplace & Delicatessen >> Visit Website / Call
Buy one meal, get one 50% OFF
— Utilities —
🌟 LHTC Broadband >> Visit Website / Call
$15 OFF the $40/mo fee for LHTC Broadband's channel 99, 30 special cable TV commercial production for $200 along with 300 cable TV spots running for 12 weeks on 6 network channels on both LHTC Broadband and Citizens Fiber